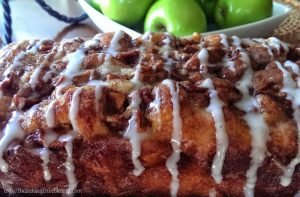 I love apples! My local apple farm, McPherson's, has a great selection of juicy, sweet apples that are perfect for eating or for cooking.  As I was scouring the web for something different, I found this recipe on The Baking Chocolatess, and it was perfect! Exactly what I was looking for. It was easy and delicious!You probably have all the ingredients in your kitchen.
For the bread, you will need the following ingredients:
1/3 cup light brown sugar
1 teaspoon ground cinnamon
2/3 cup white sugar
1/2 cup butter, softened
2 eggs
1 1/2 teaspoons vanilla extract
1 1/2 cups all -purpose flour
1 3/4 teaspoons baking powder
1/2 cup milk
2 apples, peeled and chopped, mixed with 2 tablespoons granulated sugar and 1 teaspoon of cinnamon
Preheat your oven to 350 degrees. Grease a 9×5 inch loaf pan.  Mix brown sugar and cinnamon in a bowl. Set aside.  In a medium size bowl, beat butter and white sugar together until smooth and creamy.  Beat in eggs, one at a time until blended.  Add vanilla extract.  Add flour and baking powder to mixture and stir until blended. Mix milk into batter until smooth.  Pour half the batter into the loaf pan; add half the apple mixture, and half the brown sugar/cinnamon mixture.  Lightly pat apple mixture into batter. Pour remaining batter over apple layer and top with remaining apples and brown sugar. Lightly pat apple mixture into batter. Bake until a toothpick inserted into the center comes out clean, approximately 50-60 minutes.
To make the glaze, mix 1/2 cup of powdered sugar with 1-3 tablespoons of milk or cream together until well mixed. Drizzle glaze over cooled bread.  Yum!!